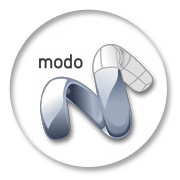 Luxology社のmodo 401 SP4の日本語版が公開されました。
SP2→SP3では、UV展開や複数のインスタンスを用いると高確率で落ちてましたが、SP4ではどうでしょう?
ダウンロード先はMARS.INC(日本代理店)
以下、修正内容を転載
Fixed: Potential crash when creating tabbed viewports.
Fixed: Potential crash when loading a corrupted file.
Fixed: Issue with hit testing during vector displacement sculpting.
Fixed: Transparency in COLLADA.
Fixed: Loading meshes via skin controllers in COLLADA.
Updated: SolidWorks file loader.
Improved: The Software Developers Kit (SDK) will now build with TinyXML.
Fixed: Minor Windows 7 bug.
Fixed: Minor bug with COLLADA incremental naming where the string "Material" was being pre-pended unnecessarily.
Fixed: Bug with F1 help system for an incorrect jump to the poly.sweep tool information.
Improved: SP4 allows deformed meshes to be frozen without subdivision.
Fixed: Custom vertex normals in COLLADA.
Fixed: Key repeat on select.expand and select.contract.
Fixed: Potential problem when loading FBX with animation and saving the file. Animation is now available on a reload operation without having to exit modo first.
Fixed: Solar disc intensity with non-unity white point.
Fixed: Potential infinite recursion in file scanning, perhaps fixing number a random crash on Mac OS X.
Fixed: Race condition in thread shutdown, most likely fixing a random hanging condition on Windows.